Aweber tutorial on link previews.
I bet thatr you have heard about Aweber. It is one of the most trusted and used autoresponder service among online marketers. If you do not know what an autoresponder is then I will explain that shortly. BUt Awebber has a new nice feature that I will introduce to you in this Aweber tutorial.
This new free feature is called Link previews. This feature will not interest you if you only want to work with a blank email template  and add your text. But if you want to create emails and email templates fast and easy with cool graphics then this feature should interest you. You can learn more aboiut this feature in my Aweber tutorial video below.
But what is an autoresponder?
An autoresponder is a software that allows you to automate the sending out of emails to your list.  An autoresponder is a very valuable tool to have for any online marketer. When people have filled ina opt in form to your newsletter and/ or list they end up on your list as your subscribers. So as long as they are subscribed then you can email them at any time you want. Your subscriber is being added to a email campaign that automatically get send  out to your list.
There are also other types of email letters that you can set up and send out when ever you want, those are called broadcast. You can send these out daily if you want or have them sent out less often. This is a good way of promoting a product and service that you may not have added a promotion about theough your email campaigns. But boroadcasts can also  be promoting a service or product that you have shared information about in your email campaigns. This to increase of people buying the particular service or product from you.
Having a list does not mean that you should pitch your subscribbers all the time.  Not every email needs to have a link in it. If you are to pitchy then you will lose subscribers. Send out emails to build trust with your list as well. Trust is one of the most important things you need to take action on, to be able to make sales through your list. You need to make your subscribers know, like and trust you, that is very important. Not everyone on your list will buy from you, but some subscribers will. This is another reason to why you always should continue to build your list.
To be able to make as much money as possible when sending out your campaigns and broadcasts, you must also make sure to have quality subscribers. A responsive list. Because if you should notice that some subscribers never opens your emails or clicking any links, then you need to in fact remove those people from your list. So always check the tracking results for your emails. Because it is not really about the size of your list, it is about the quality of your list.
The options with Aweber.
If you have a tiny budget or for any reason do not want to pay for a autoresponder, then know that Aweber now offers a free plan. With the free ploan you can only have one list and you will not get as much tracking through your emails regarding clicks and so on , in comparison to if you have  a paid account. But nyou can always start with a free account and then when you made some profit through your list you could maybe consider to upgrade your plan. But that is totally up to you. I am using a free Aweber account in my aweber tutorial video above ny the way.
With Aweber you can also create your landing pages, there are several themes to choose from. This is great especially if you have a limited budget. Like with any autoresponder you can also create opt in forms to have at your blog or just shared  through a link that you can share online. Because you need to be building your list in as many ways that you can. You can even put a opt in form in your blog posts sometimes, and motivate your readers to subscribe to your list.
Now to the link previews
So what is up with this new feature with link previews with Aweber? It is a quite cool feature were you can enter the url to any website and grab the images from that site and put them on your email template. Of course if you do not want to use somme ofnthe images from that  site, then you can easily remove them. You will get different collections of images after entering that url and then you click on the collection that you wannt to be uusing. Then you simply start to editing those templates. You can discover everything about this in the video above.
The steps you need to take to start using link previews are quite easy:
Log in to your Aweber account.
Click on create message then choose smart designer.
Put in  your website url and click the orange button.
Fill out the survey .
Choose wich block of images you want to use.
Then start editing.
Anyone can do this with this feature. You do not have to be a designer and a expert on creating graphics. Even more experienced email template designers can save a lot of time using this new feature with Aweber. And it is totally free to use as well.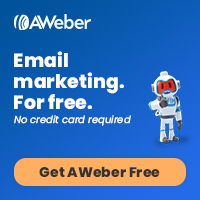 Summary
I have written many times on this blog about the importance of building a list, because when you have a list you can simply fhe your business building and income generating activities. Because to not have a list is to make your marketing more difficult then it has to be. I know that there are marketers that maskes money without a list, I would however recommend you to build your list. Is a great assett to have. With a list you can promote different offers time and time again. If you are only sharing affiliate links online then people may only see your offer once.  You ave to realize that not every subscriber on your list will buy from you, but some will. Soi therefor keep building that list of yours.
You should also remove inactive subscribers from your list as well. Because not every lead and subscriber is a quallity lead.  Do you have a tiny budget? No worries, because Aweber offers a free plan that you can use to start building your list with. AWeber is a autoresponder that I am using personally, and so many others are also using and trusting this autoresponder service. So if you easily and fast want to create great looking  email templates then why not check out this new feature with Aweber. It fits beginners as well as more advances marketers.
Do you have an autoresponder right now? Which one are you using? If you do not use a autoresponder, why is that?  Feel free to comment below. Thank you for taking the time to read this Aweber tutorial..
Cheers, Tommy Olsson.